Since we arrived in Palm Coast, I have to admit I've been a bit unmotivated. At least when it comes to boat-related tasks. Sometimes you just need a break. So, we've been working on other issues.
One was my wife's car. When we were in the middle of the battery replacement in Southport, we became the victims of a hit and run accident. While parked in the Napa parking lot, our car was hit by another car. My wife heard the crunch and went out just in time to see the the vehicle pull away from our car and take off. She managed to get the license plate tag and general description for the police. Not only that, but we ran across the vehicle later that day at the local Lowe's while getting some parts for the battery box changes and helped the police catch the hit-and-run driver.
Crunched Bumper.
Of course, that event left us with a car that needed some repair. A new bumper cover and some paint and the car should be O.K., but finding a body shop in an unfamiliar city takes a bit of time. We went to look at a few shops, checking their work while they did the estimate on our car. We found one we like and have an appointment to get the car fixed (in a couple weeks - I guess they are booked through "bike week" in Daytona).
We have had a crew member issue as well. Our eldest dog has been suffering from ear margin vasculitus (a condition where sores develop on her ears). She has been suffering from this for nearly 2 years now. We have been getting her to vets for treatment but nothing seems to be working. She has been to at least 4 dermatologists as well as other veterinarians and no one seems to be able to figure out what is causing it or an effective treatment. After we got in town, we got her yet another appointment because of an apparent reaction to the latest medications and have now made an appointment with the veterinarian hospital at the University of Florida, Gainesville. Needless to say it has been a bit trying and we are concerned for her.
Another non-boat issue has been my wife's cell phone. When we switched service to Ting, my wife brought her phone over from T-Mobile. Ting is our very inexpensive cell phone service provider, and to keep prices low they do not subsidize handset prices. Since they work on both T-Mobile and Sprint networks, it made sense to just use her phone. Almost a year has passed, and my wife's phone is getting a little long in the tooth. The battery isn't holding a charge very well and the operating system and memory limit how well the newer versions of Android and various applications work on the phone. It is time for a new phone.
My wife isn't an overly technical person and so the task of researching a suitable replacement fell to me. We needed a phone that would work well in both the U.S. and the Caribbean. This not only includes voice calls, but 3G, 4G, and 4G LTE data. It needed to be an unlocked phone so we could swap out sim cards in the islands to get better phone and data rates. It needed to have enough memory to last through at least a few more operating system upgrades. It needed to be able to act as a WiFi hotspot for times when we don't have other WiFi connection options for the computers. And it wouldn't hurt if it weren't terribly expensive.
We considered purchasing a refurbished Google Nexus phone (in this case the LG Nexus 5). These phones come unlocked and with only the basic Android operating system, so no memory wasted on useless applications. They typically have transmitters that work with a variety of voice and data networks. The battery isn't replaceable on this device, and we were concerned about how long the battery would last on a refurbished phone.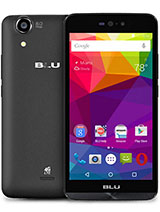 Blu Dash X LTE
Then we ran across cell phones made by a company called Blu. They make relatively inexpensive phones that are unlocked. They have an interesting selection of phones with varying feature sets. We found one (the
Dash X LTE
) that contained radios that worked on most of the voice and data frequencies used in North America. the Bahamas, and the Caribbean. It had a reasonable processor and moderate amount of memory with the ability to add a memory card. The best part is that the phone retails at a little over $100. That is cheaper than the used Nexus phone. The only negatives I can figure out are that the phone may not be all that rugged. It would be nice if it were waterproof, but that is pretty much a dream. Given the price of the phone, the build quality might be questionable, but the Blu phones we saw at Best Buy (they had a few, but not the one we wanted) seem reasonably well constructed. Oh, and it also can use two sim cards, so we can keep our U.S. card installed and have an alternate. We ordered the phone and will see how it does, but we have high hopes it will be a vast improvement over her current phone.
One of these days I should do a more complete longer-term write up about our time with the Ting phone service and how we've been able to cut our phone bill by almost 75%. The short story is that our average bill for two phones has been about $28 per month with the new service and our efforts to conserve. We have had pretty good coverage throughout our travel area, with only a few small spots that we found limited or no service. If you are interested in giving them a try,
this link
can get you a $25 credit.
Of course it is tax time again here in the U.S. That means it is time to fill out government forms and file our taxes. This year is a fairly simple year for us. No home and very limited income makes for a pretty simple return. Not quite the 1040EZ form, but not much more. Still, it takes time to collect all the needed information and fill out the forms. And with marina-quality (read 'spotty') internet, getting the federal and state forms filed electronically took more time than anticipated. But after a little effort, our taxes are complete for another year.
Back in a marina that has $4 per load laundry facilities ($2 wash + $2 dry) has us looking at alternative washing solutions again. We have used the plunger and bucket and that works OK for wash, but the spin type dryers seem like a good addition to reduce drying time. If you recall,
we tried a combination washer and spin dryer
a while back but the spin function left a bit to be desired. My wife has since decided that the spin function wasn't all that bad, so we might look at another one of those combination units. We have been researching these items as the marina internet allows.
We have a little cleaning to do before family arrives later today and then we will likely be doing more non-boat stuff (and hopefully more fun stuff). It is a nice break from all the work we have put into the boat over the past months. Rewiring the engine and other projects can wait a bit.